Investing that makes sense
Sign up here for your FREE value investment newsletter
Free unbiased investment advice for equity investors worldwide.
In these newsletters I share with you what 30 years of value investment has taught me – sometimes at considerable cost.
Sign up now and get your free Enhanced Value Investment Check-list – with over 30 proven checklist items to improve your investment returns.
What subscribers say: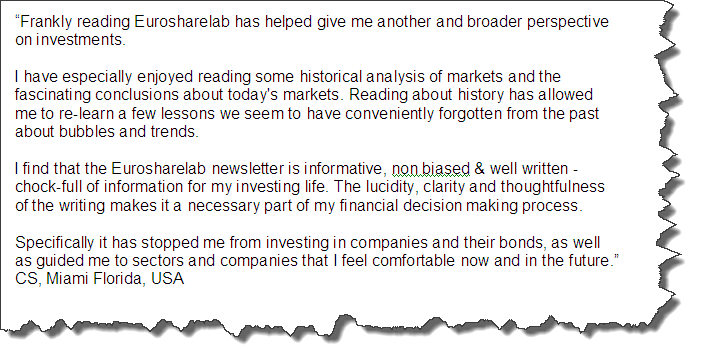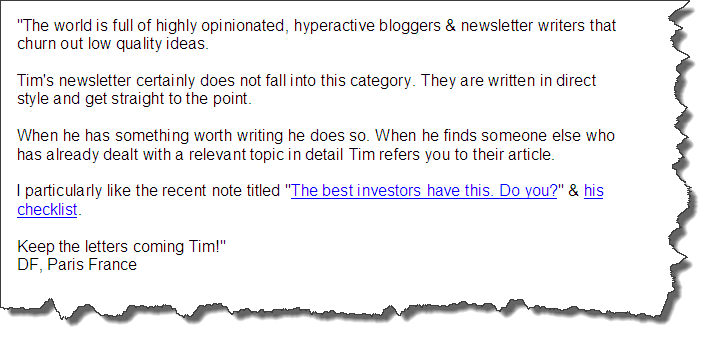 In comparison with the USA there have been relatively few studies conducted on what works in investing in the European stock markets.
With this paper we would like to make a contribution and examine what factors led to excess returns in the European markets over the 12-year period from 13 June 1999 to 13 June 2011.
The 12-year period included a stock market bubble (1999), two recessions (2001, 2008-2009) and two bear markets (2001-2003, 2007-2009).
We not only tested the historical value of the factors, but where it made sense, we also tested the 5-year average to see if it is a better indicator to use to generate market outperformance.
When we found a factor that showed strong out-performance we tested it together with other factors to see if two factors generate even more market outperformance.
What if we told you we found a simple two-factor method you can use to select investments that led to a 23.5% per year compound return (market was 2.25%) over the 12 years we tested?
That is a total return of 1157.5% compared with the 30.54% the market returned!
This return was generated by a combination of…
Sign up here for email updates of our blog. You can read what 30 years of investing has taught me ? sometimes at considerable cost. [...]
Have you ever thought of how much you should invest in each stock in your portfolio, also called your position size? You can of course [...]
Hunter Douglas (HDG) recently came up on the Quant Investing screener's weekly list of companies with improving fundamentals which means it has an improving Piotroski [...]